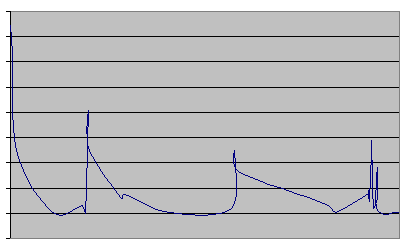 I'm spent this long weekend for study RXP protocol which IBM recommend to communicate with.
As I know java, I decide to write small utility on Java RPX. I was my mistake, because IBM Java RPX is worst API which I sow in last years. Methods like OpenProject(arg0, arg1, arg2, arg3, arg4, arg5) make me crazy.
As result I use VBA RPX API as reference and Java RPX API just as implementation.
In any case, result of my homework — I'm able to build statistics based on RequisirePro repository about how often I change requirements in project. It helps me to analyse time when my requirements set is stable and ready for implementation. Also this simple chart show me which external actions affect requirements (architecture overview stage, review requirements by development team or test team).
In my next step I going to implement RSS stream for all requirements changes in project scope, it should help my team follow in any changes in product in frame iterative process.