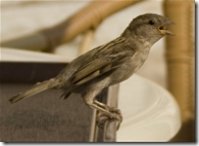 [lang_en]Some words about my camera: I use new camera Canon 350D for 4 months, also I use camera lens Canon EF-S 18-55 mm for present time. Of course I have storage card CF 2Gb 40x, two tripods Manfrotto 718B (up to 169 cm height) and small (pocket) tripod (up to 40 cm).
And new photo — impudent young sparrow.[/lang_en][lang_ru]
Несколько слов о моем фотоаппарате: уже в течении 4-х месяцев я использую новую камеру Canon 350D со штатным объективом Canon EF-S 18-55 мм. Также в процессе сьемки используется карточка CF 2Gb 40x, два шатива Manfrotto 718B (до 169 см высота) и маленький карманный штатив (до 40 см).
Ну и очередная фотография — наглого молодого воробья.[/lang_ru]